Martin McGuinness to give Warrington peace lecture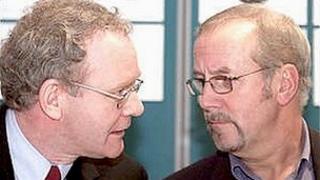 Former IRA commander Martin McGuinness is to deliver the annual peace lecture at the Warrington centre which honours two boys killed by a bomb in the town.
The Northern Ireland deputy first minister visited the Warrington Peace Centre in 2001, when he met the parents of Tim Parry and Johnathan Ball.
Tim, 12, and Johnathan, three, were killed by the IRA bomb on 20 March, 1993.
The Sinn Fein politician will deliver a keynote address on 18 September.
Tim's father, Colin Parry, who founded The Tim Parry and Johnathan Ball Foundation For Peace, invited Mr McGuinness to the centre earlier this year.
"We don't just talk to victims of terrorism we also talk to people who have been associated with terrorist acts," he said.
"In simple terms, you make peace with your enemies, not with your friends."
Mr Parry added: "Mr McGuinness's past would have placed him beyond the pale for many people, but not for me and my foundation.
"Having dedicated our lives to peace-building and reconciliation since the tragic loss of our son Tim, we have invited Mr McGuinness in the spirit of peace-building and reconciliation, to address an invited audience."
Mr McGuinness said the killing of the two children was wrong and should not have happened when he met Mr Parry in 2001.