Merseyside councils fail to block payday loan websites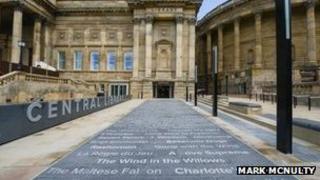 Three Merseyside councils failed to block payday loan websites from public computers two weeks after saying they had banned them.
A BBC investigation found people logging on to the websites in libraries in Liverpool, Knowsley and Wirral.
All three councils wanted to ban the sites over concerns about residents getting into debt.
Liverpool City Council's deputy mayor Paul Brant said it was "an oversight" but the sites have now been blocked.
"It looks like the sites have been blocked on all the council's internal PCs , but the libraries operate on a different server and for some technical reason they didn't get included," he said.
On Tuesday reporters at BBC Radio Merseyside were able to access some of the most well-known firms' websites at Prescot Library, but other lenders had been blocked.
'Taken action'
Birkenhead Central Library had managed to ban most sites - but some were still available.
Reporters were also able to access sites at Liverpool's Central Library.
The councils insist they have now taken action to block all high-interest loan companies.
Knowsley Council said: "We were made aware that two sites were still accessible via our system and we have taken immediate action to tighten our controls and block access to these sites."
The loan firms offer a short-term solution to money problems, but often land people in long-term financial difficulty because of their high interest rates.
Liverpool City Council wanted to block the sites after finding its residents' annual debt to the companies had risen by 36%.
Council research found the average payday loan debt in the city was £1,748 in 2012, up £463 on the previous year.