Liverpool John Lennon Airport staff 'miss explosives' in tests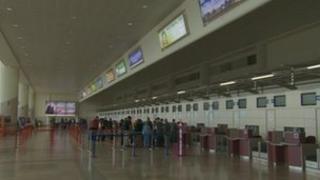 Liverpool John Lennon Airport has admitted staff failed to spot explosives and knives planted during a security test last week.
According to a whistle-blower, the incident involved two improvised explosive devices and two knives.
The airport said members of staff were receiving additional training.
Merseyside MP and shadow transport secretary Maria Eagle described it as a "matter of concern" and that she would bring it up with the aviation minister.
'Ongoing training'
The Labour MP for Garston and Halewood said they were "serious allegations".
She said: "I shall be contacting the aviation minister to look at this issue and to give me some assurances about what is going on".
Paul Staples, operations manager for the airport, said: "This particular incident we are talking about was part of our ongoing training programme, where we deliberately put items through.
"We are constantly looking to improve as we learn more about items that are brought through and how they can be hidden".
He added the public were never in any danger and they could be reassured that safety is a priority at the airport.