'Real life miracle' of Lucas Georgiou born at 23 weeks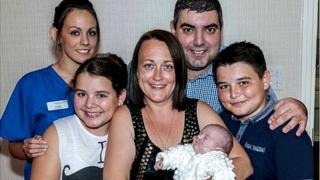 A baby boy who was born at 23 weeks has been described by doctors as a "real life miracle" after leaving hospital for the first time.
Lucas Georgiou weighed 2lbs (900g) when he was born at Liverpool Women's Hospital in April.
Due to his premature birth, doctors gave him a 25% chance of survival.
His mother Tracy said she had "wished every day [since] that I could put him back inside my body", but was "ecstatic" to take him home.
Lucas was delivered by emergency Caesarean section after his 31-year-old mother, from West Derby, developed placental abruption.
The rare condition, which caused Mrs Georgiou to suffer a life-threatening haemorrhage, sees the placenta come away from the womb wall and affects less than 1% of pregnancies.
'Happy but frightened'
It was the second time she had suffered the condition, having developed it last year while 18 weeks pregnant with her daughter Sophia.
Mrs Georgiou lost Sophia as a result of the condition, which she said led her and her husband Costa to have "mixed feelings" when she found out she was pregnant again in November.
"We were happy but also frightened - but [the condition] is so rare I didn't think it could happen to me twice," she said.
"I tried to be positive about it but I was living on the edge until we got to 18 weeks in case it happened again.
"After that, I started to enjoy the pregnancy."
However, on 29 April, she was taken to hospital after collapsing at her cousin's house.
"I was just coming down the stairs when I started bleeding severely again", she said.
'Never looked back'
She later underwent the emergency delivery and, such was the severity of her own condition, she did not realise for three days that Lucas was alive.
"I haemorrhaged so badly and had to have so many blood transfusions that at one time I didn't have a drop of my own blood in my body," she explained.
"They took him through to neonatal intensive care, but he wasn't expected to survive - every minute, every second counted.
"Because he was so premature, he had a heart valve problem which didn't respond to medication. So at six weeks old, he went to Alder Hey for a heart operation.
"We watched him going into theatre, knowing that he might not survive that.
"But he did and it was a turning point - from that day, he never looked back [and] the doctors say he is a real life miracle."
Lucas, who left hospital four days before his due date of 16 August, now weighs 5lbs 3oz (2.3kg).
The hospital's clinical director of neonatal care, Bill Yoxall, said Lucas had had "a lot of challenges to face due his extreme prematurity, but has battled through them all".
"His family have been very strong through some extremely difficult times and we are delighted that they are able to take their son home," he added.