Wirral's 'Dome of Home' gets Heritage Lottery funding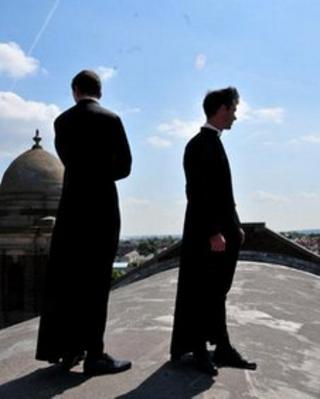 A historic church, recently reopened after a five-year closure, has received its first tranch of lottery funds which could eventually reach nearly £170,000.
Saints Peter, Paul & Philomena Church, New Brighton, was reopened in 2012 by the religious order The Institute of Christ the King Sovereign Priest.
It had been closed in 2008 by the Diocese of Shrewsbury because it was deemed too large and expensive.
The Heritage Lottery Fund (HLF) is giving £35,300 initially for repairs.
Regarded as one of the River Mersey's landmarks, the church was officially reopened following a campaign by local people.
HLF said it was funding the first phase of a project to carry out a structural investigation, followed by urgent repair works making the building watertight and warm.
A second phase could see lottery funding rise to £169,200.
The project will ultimately provide a new accessible toilet and a range of activities for visitors to help them engage with the heritage, art and architecture, as well as promote wider community involvement.
'Beacon of hope'
It is hoped Heritage Open Days in September will lay the foundation for a heritage tour staffed by trained volunteers.
The church's rector, Canon Amaury Montjean, said: "This is wonderful news.
"The HLF grant will help address the urgent repairs needed to preserve this landmark and its heritage, as a beacon of hope for future generations."
Eileen Willshaw, Heritage Officer for Wirral Borough Council said: "This is not only marvellous news for the church but, now that New Brighton is experiencing regeneration, the HLF award will allow the rich heritage of this landmark to be more accessible to the local community."
The Grade II-listed building, which first opened in 1935, was nicknamed the Dome of Home because it is one of the first things seafarers see when they sail back to Liverpool.
No longer a parish church, Saints Peter, Paul and Philomena is now the only Roman Catholic Church in England where Mass is celebrated solely in the Roman Catholic Church's traditional Latin Rite.
Other churches have Latin Masses combined with the regular Masses in English.