Michael Causer: Vigil marks five years since murder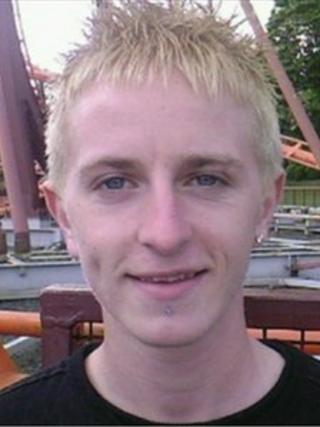 The fifth anniversary of a gay Merseyside teenager's murder has been marked with a vigil for hate crime victims.
Michael Causer, 18, from Whiston, was attacked at a house party in Huyton on 25 July 2008 and died eight days later.
His family believe he was the victim of a homophobic attack, although a judge said he did not think it was the motive of his killer, James O'Connor.
The vigil took place in Temple Square in Liverpool.
A charity set up in his name, The Michael Causer Foundation, is raising funds to provide emergency accommodation for lesbian, gay, bisexual and transgender (LGBT) young people on Merseyside.
The Anthony Walker Foundation and The Sophie Lancaster Foundation linked up with the charity as part of the vigil.
'Diversity celebrated'
Other recent victims of hate crimes in the north-west include Anthony Walker, who was murdered in Huyton in 2005 in a racist attack, and Sophie Lancaster, who was killed in a Lancashire park in 2007 for being a goth.
Kieran Bohan, from the Michael Causer Foundation, said they were not just arguing for LBGT rights.
He said: "We are saying that diversity should be something to be celebrated and supported and not something to be attacked because someone is different from their peers".
O'Connor of Runcorn, Cheshire, was jailed for life for Mr Causer's murder by Liverpool Crown Court in 2009. He was told he must serve a minimum of 11 years.
He admitted attacking Michael but denied in court that it was a homophobic attack.