Liverpool FC staff get insults guide to curb fans' abuse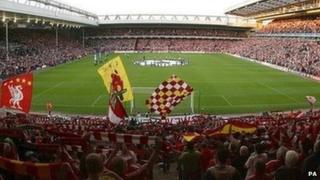 Liverpool Football Club staff have been issued with a guide to unacceptable language so they can help eradicate verbal abuse from fans.
The handbook highlights "offensive" phrases including "don't be a woman", "play like a girl" and "that's gay".
The club said they wanted to stamp out slurs against race, religion, sexual orientation, gender and disability.
Player Luis Suarez was found to have racially abused Manchester United's Patrice Evra during a game last year.
The club was criticised in February by black community groups for a perceived lack of action over the Uruguayan striker's actions.
'Not really anti-gay'
Liverpool's players receive their own guidance as part of a separate Premier League programme.
Antoine Zammit, editor of fans' blog Empire Of The Kop, said overall he thought it was a "good policy" but said he thought it was "excessive" to claim the phrases "man up" and "playing like a girl" were offensive.
He also took issue with "rent boy" being in the guide.
Mr Zammit said: "Rent boy is just another term for male prostitute; while it could offend the individual it is not really an anti-gay term.
"This term is sometimes used to describe the players whose high salaries and lack of loyalty make them like prostitutes."
'Positive step'
Social inclusion officer Rishi Jain said the club had been "actively engaged in an education and awareness programme".
"This programme includes interactive workshops and a handbook which is designed to provide information on the latest equality legislation, including what terminology is deemed acceptable and unacceptable."
He added it would help staff "take the necessary steps to ensure Anfield is free from all forms of discrimination".
Lord Herman Ouseley, chair of anti-discrimination group Kick It Out, said the guide was a positive step.
He said Liverpool FC had taken "great strides" to tackle discrimination.
"Match-day stewards must be trained on dealing with incidents of discrimination and unacceptable behaviour in order to eradicate it from our stadiums."