Ten charged over James Larkin parade in Liverpool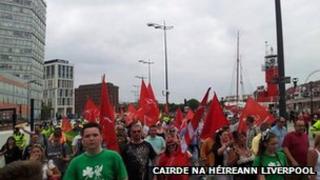 Ten people arrested at a Liverpool march in honour of trade unionist James Larkin have been charged by police.
Eight men and two women were charged with offences including drug possession and public order offences.
Police said they will appear before magistrates in Liverpool on 14 August.
Police said a "small number" of protesters attended Saturday's parade, which commemorated the Irish trade unionist, best known for his role in the Dublin Lockout of 1913.
The march was organised by the James Larkin Society and also attended by Cairde na hÉireann (Friends of Ireland) Liverpool, Irish community groups and trade unionists.
Larkin was born in Liverpool to Irish parents in 1876. The family moved back to Ireland when he was a child.