Inside Ashworth Hospital: Life with Britain's most violent patients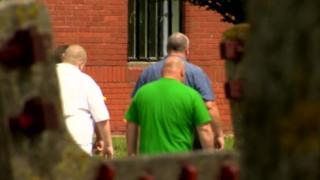 Ashworth high security hospital on Merseyside came under the spotlight after Moors murderer Ian Brady lost his legal bid to be transferred from there to a prison. For the first time in 20 years, the BBC has been allowed inside to talk to staff and patients.
On first impressions, Ashworth feels like a prison.
The cameras, gates and alarms which keep it secure are hard to ignore. Visitors are fingerprinted and searched.
But Ashworth isn't a prison. It's a hospital. Its patients are considered such a danger to the public they are kept under high security.
It has capacity for 228 patients with beds organised around 14 wards. It costs about £300,000 to keep each patient at Ashworth for a year.
At the moment there are about 190 men detained at the hospital who are all individually monitored 24 hours a day.
They can be tracked on camera and when they move around the site they are escorted by staff in constant radio contact with the central CCTV control room.
Most of the men at Ashworth have paranoid schizophrenia. Many also have criminal convictions and come from prison.
Stefan, who arrived in 2008, was in jail for drugs offences, but became mentally ill, and was taken to Ashworth. I met him in the hospital gardens; a startling oasis amid the wire and concrete.
"It's not a dungeon like people make it out to be", he said. "It's nothing like that".
Stefan is 31 and s due to leave Ashworth soon after drug treatment for his schizophrenia.
He said: "I thought people were trying to kill me. I was paranoid. I had a lot of anger, I was frustrated. Now I'm on the right medication I can see a whole different change in me."
Volatile and violent
Ashworth's patients stay for an average of five years, but the hospital's most notorious resident Ian Brady has been inside its walls for 28 years.
At Brady's recent mental health tribunal he described himself as Ashworth's "most high profile patient". Staff, though, say he is treated in exactly the same way as any other.
Phillip Knight has worked at Ashworth for 25 years and nursed many of the most volatile and violent patients.
"We've had a number of staff who've been severely injured," he said.
"It's recognising the fact that the patients have very little control over it and it's the severity of the illness which is probably not experienced in many other places in the country".
Earlier this year, inspectors found the hospital is now meeting all standards.
David Fearnley, medical director of Mersey Care NHS Trust, which runs the hospital said he is not complacent.
"I know that in the news there are very well esteemed organisations experiencing very significant failings in care, and I think the transparency is the key to assuring the public that we are providing high quality treatment."
There are some surprising corners of Ashworth, including the colourful art room, the cricket pitch, and the chicken coops.
But you can never forget where you are, and for those on the inside the outside is a world away.