Gritter stops road melting in Warrington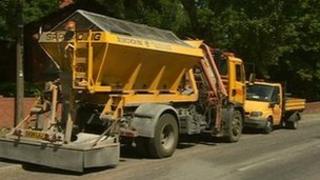 A gritting lorry has been used in Warrington to stop the road melting due to the soaring temperatures.
A contractor working on Phipps Lane in Burtonwood requested the gritter earlier from Warrington Borough Council after the road surface started melting.
A council spokesman said: "Timely intervention is extremely important to protect roads in such situations."
Air temperatures in Cheshire peaked at 29C (84F) but black road surfaces can regularly reach 50C (122F).
The heatwave warning was raised to "level three" earlier by the Met Office for north-west England as the hot weather continues.