Stanley Dock: Derelict Liverpool warehouse to become hotel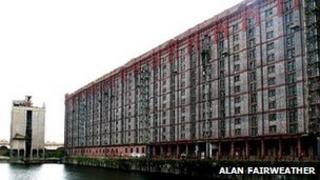 Liverpool City Council is investing £5m to help developers turn a derelict warehouse into a hotel.
The plan to transform the Grade II-listed former tobacco warehouse on Stanley Dock was approved by the authority more than a year ago.
Dublin-based Harcourt Developments said they would invest £30m in the 150-bed hotel, but applied for a council grant to help complete the first phase.
The area has also been awarded £25m of the government's regional growth fund.
The scheme aims to bring 1,800 jobs to the city and includes shops and apartments.
Malcolm Kennedy, cabinet member for regeneration and transport, said the grant was "a sign of the city's commitment to the project".
He stressed the money was not coming from council tax payers but was "money that has specifically been set aside for economic development".
Developer Pat Power said he was confident the hotel would open next year and be the springboard for a redevelopment of the whole dock.
Opened in 1901, the 14-storey north warehouse is one of the world's largest brick buildings and consists of 27 million bricks, 30,000 panes of glass and 8,000 tonnes of steel.
It has been derelict since 1980.