Michael Molloy 'would be beaming' at Liverpool Music Awards nomination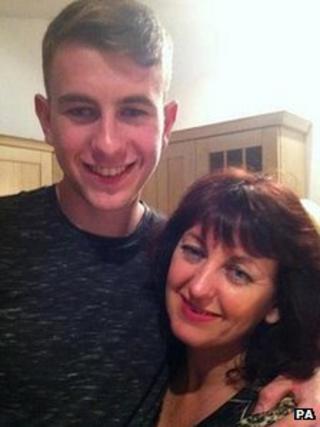 The mother of an 18-year-old Liverpool musician who died in a coach crash says she is "over the moon" a song he wrote has been nominated for an award.
Michael Molloy died in an accident on the A3 in Surrey in September while returning from a music festival.
His song Rise and Fall, which was released after his death, has been nominated for the Single of the Year at the Liverpool Music Awards.
His mother Frances said Michael "would be absolutely beaming" at the news.
"This is who Michael was and we just hope he will always be remembered as a musician and songwriter," she said.
The song, which Michael recorded with his friend Alex Evans, entered the charts at number 38 in May.
The nomination is the second honour bestowed on the musician by the awards organisers, who previously announced the Youth Music Award would be named after him.
The awards, which celebrate established and emerging musical talent from Liverpool, take place on 25 August.
On Tuesday, an inquest ruled that the deaths of the 18-year-old, the 63-year-old coach driver Colin Daulby and fellow passenger Kerry Ogden, 23, were accidental.