Schools should 'share best teachers', report claims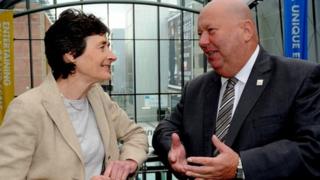 The best teachers should be loaned out to under-achieving schools to help them improve, according to a new report.
The document, commissioned by the mayor of Liverpool, offers a vision for learning in the city from pre school to higher education.
Authored by former Education Secretary Baroness Morris, it claims schools have improved since the city failed an Ofsted report in 1999.
But she said the real challenge is to deliver high standards for all groups.
The study, entitled From Better To Best, proposes the development of a city-based curriculum and a locally accredited teacher training, developed with businesses and Liverpool's universities, which would be recognised nationally.
It was produced by the mayor's education commission which is chaired by Lady Morris, who was Labour education secretary at the time of the damning Ofsted judgement.
'Spreading excellence'
"Over the past year it has been a privilege to return to the city and see the difference," she said.
"More schools are successful, more teaching and school leadership is of a high standard, the local authority offers a good quality of support and challenge and, as a result, the achievement of children and young people has improved."
The report said schools should work together to improve high standards with the best leaders "spreading excellence across the city".
It urged: "Schools must be willing to share their best teachers with those that need help.
"No-one would ask a school to put its own progress at risk. Allowing teachers to work, even if only for a short time, with another school is a learning experience for both."
'Pupil Promise'
The report added: "This sense of shared moral purpose and responsibility for all Liverpool learners must be the foundation of schools working in partnership."
Among its 16 recommendations is for Liverpool to become the country's "foremost reading city" with schools prioritising literacy so no child leaves a primary school unable to read.
Another recommendation is for the Liverpool Learning Partnership, the group which represents all of the city's schools, to take the lead in driving up standards.
The partnership would also be responsible for devising a Pupil Promise outlining what every child can expect from their education in the city.
Other proposals suggested by the commission include: the right for all children to learn a musical instrument or learn to sing, the wider use of philosophy in schools and parenting and financial management lessons for 15 and 16-year-olds.
Mayor Joe Anderson said: "I very much welcome and endorse this report, which makes a series of bold but sensible recommendations to identify how we can go further and faster."