Hundreds of firefighters compete in Liverpool rescue event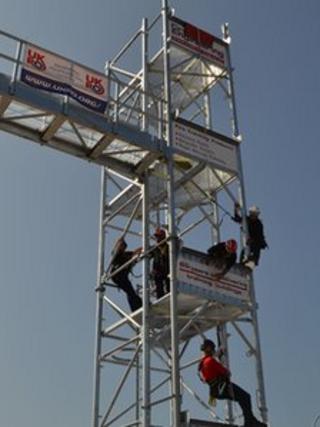 Six hundred firefighters from across the UK and Europe took part in a series of rescue challenges at an event to showcase their skills in Liverpool.
Hundreds of spectators watched teams compete in vehicle, water and rope rescue situations in the United Kingdom Rescue Challenge 2013.
The event is the biggest rescue challenge of its kind in the world, the fire service said.
The challenges show the range of situations crews deal with daily.
They took place on a specially-created arena near the BT Convention Centre and Kings Dock.
'Demonstrates service's value'
The site included two metal towers more than 9m (30ft) high, which were used to test rope skills, and floating pontoons in the dock, where firefighters rescued "casualties".
Steve Apter, chief fire officer of the Isle of Wight service, said: "The unique thing about the UK Rescue Challenge is that it shows the wide variety of rescue skills required by the modern fire and rescue service and it hopefully demonstrates to the public those skills and the true value of the fire and rescue service.
"It's not just about extinguishing fires, a lot of training goes on now every week across the UK."
Firefighters in England rescued six times more people from road crashes than house fires over the past three years, new figures from the Department for Communities and Local Government show.
In the three years to March 2012, about 23,600 people were rescued following vehicle collisions, compared to 3,600 rescued from accidental house fires.