Merseyside hit hard by housing benefit cuts, says study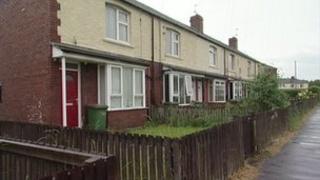 Thousands of families on Merseyside have "spiralled into debt" in the 100 days since the government introduced housing benefit cuts, a study claims.
It follows a benefit change in April - dubbed the "bedroom tax" - which cut help given to tenants with spare rooms.
The National Housing Federation said people were being forced into rent arrears because there were not enough smaller properties to move to.
A government spokesman said: "Reform of housing benefit is essential."
First time in arrears
As part of the change, recipients of working age who were in social housing with spare rooms had their benefit cut by an average of £14 per week.
The federation collected data from 18 social landlords who own 91% of all 130,000 housing association homes across Merseyside.
They estimated that, of the 26,500 households affected, 155 were able to downsize into housing association properties in April.
In the Riverside area, 2,347 householders would need to move to a one-bedroom property to avoid the benefit cut - however only 407 one-bed homes become available each year, the report stated.
David Orr, the federation's chief executive, said: "The fact is there aren't enough smaller social homes in Merseyside for people to avoid the bedroom tax, even if they wanted to move."
The federation's report also found 6,000 of the 14,000 householders who had fallen into arrears had done so for the first time.
Mr Orr added: "Housing associations warned the government from the start that the bedroom tax would not work and that families would face financial hardship.
"The reality is that many people will stay in their homes and will be forced to live on less money.
"It is time to face the facts and repeal this unfair policy now."
Move is 'terrifying'
The report also said disabled people were unfairly hit by the changes, with an estimated 19,000 in Merseyside losing more than £13m a year.
Julie Atherton, from St Helens, has adapted her home of 14 years owing to her disability.
Moving to a smaller home without the alterations "terrifies" her, she said.
Ms Atherton now has to pay an extra £11.46 a week for her spare bedroom, which she can only afford due to being awarded a Discretionary Housing Payment (DHP) which lasts 12 months.
She said: "I suffer from a disease of the spine, I've also got diabetes, arthritis and other issues, so I had a bathroom converted into a wet-room and it has made a real difference.
"Don't ask me how I would have paid the extra without getting the DHP, or how I will pay once it runs out, because I just don't know."
A spokesman for the Department for Work and Pensions (DWP) said: "We are giving local authorities £150m DHP funding this year to support vulnerable people, including £25m to help people who live in accommodation that has been adapted for their disabilities.
"We always monitor the impact of our policies carefully but there is no conclusive evidence that people affected by our housing benefit reforms are not getting the help they need.
"This reform will save hard working taxpayers almost £1bn over the next two years and will help restore fairness to our housing benefit system."