University of Liverpool admits emailing wrong results to students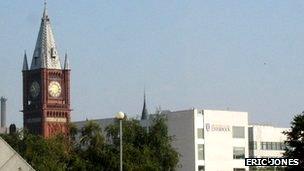 Hundreds of students at the University of Liverpool have been sent the wrong exam results.
The university has admitted that a "technical problem" resulted in the receipt of "incorrect information" when emailing undergraduates.
A spokesman said the fault had now been fixed, with all correct results due to arrive before the end of the day.
The university's Vice-Chancellor described the situation as his "worst nightmare".
Nicholas Marshall, 22, said he was one of many to receive results belonging to other students.
"I was a bit concerned at the start because I didn't realise it was for someone else, so I looked at the results and they didn't seem to be what I thought I would get," Mr Marshall, who is studying international business, said.
"If I've got someone else's results, who has got mine? It has been a horrible and nervy morning to be honest."
He added: "They need to invest in a better system. As far as students are concerned it's the most important day of the year, yet they somehow still get it wrong, which is why we are annoyed by the situation."
The error is believed to have affected a number of final year students. Many said they had received results of students on different courses.
The university's Vice-Chancellor, Sir Howard Newby, said there "appears to have been a human coding error".
He said: "It's absolutely terrible, and I would like to apologise absolutely unreservedly to the students and all those affected.
"We really are upset about this, it's not the sort of thing one would want to see associated to the university."
He added: "We are in technical breach of data protection and we have informed the commissioner accordingly."
Kathryn Turnbull, 21, a third year ancient history student, said: "To be receiving other students' results is just horrible.
"This must have been a day they had been planning for for a long time, you would have thought they would have been able to manage this correctly.
"Me and many other students just feel let down by the university, because these results are so important and we are still in the dark."
In an email, the university told undergraduates they would receive the correct results later on Monday.
It asked them to respect fellow students' privacy and not share other people's results.
It also added all "erroneous messages" had now been deleted from students' email accounts.
Related Internet Links
The BBC is not responsible for the content of external sites.