Knowsley Safari Park baboon shot dead after escape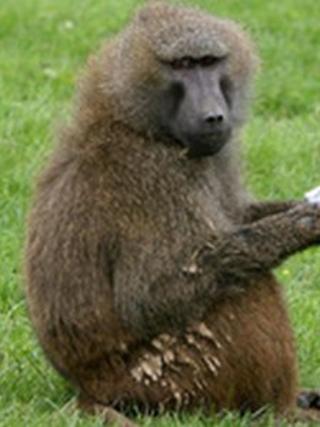 A baboon was shot dead after it escaped from its safari park enclosure.
The animal was killed after it managed to climb over the perimeter fence at Knowsley Safari Park in Merseyside at 10:15 BST.
The adult male had been chased out of its enclosure two hours before by a group of 20 males as it tried to protect its mate.
The safari park said it resolved the situation "quickly, safely and humanely".
'Very sad'
In a statement, the park said: "The baboon tried to protect his only female from being abducted by antagonist males - a common occurrence in baboon society.
"Cornered, he saw the outside of the enclosure as his safe way out and decided to face the electric fence to protect himself.
"The emergency procedures were immediately instigated, aiming to retrieve the baboon to a safe area.
"The baboon was located just outside the perimeter fence of the park. Sadly, in this situation, the safety measurement requires the animal to be shot.
"It's very sad when something like this happens, but the police, game keeper and animal management team did everything they could to resolve the situation quickly, safely and humanely."
There are more than 140 baboons at Knowsley Safari Park.
The park was designed by the 18th Earl of Derby and opened in 1971.