Groom arrested in Liverpool 'sham marriage' to be deported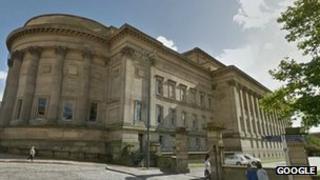 A groom from Pakistan arrested moments before he was due to take part in a "sham marriage" in Liverpool is to be deported, said the Home Office.
Immigration officers stopped the ceremony at St George's Hall on Monday after receiving information the relationship "may not be genuine".
The man, 25, who had been living in Liverpool, overstayed his visa, according to the Home Office.
His intended wife, a 20-year-old Hungarian, was questioned and released.
The Home Office said the man has been detained pending his repatriation.