Alopecia sufferer Jennifer Chambers runs without wig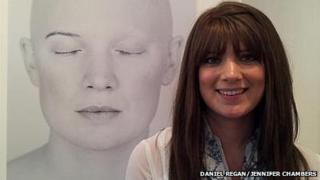 Like many others, Jennifer Chambers will be running the Mersey Tunnel 10k in aid of a charity, but her cause will not just be emblazoned on her chest.
She will be showing her support for her chosen charity by casting her wig aside and baring her bald head.
Jennifer, a 29-year-old youth worker from Liverpool, suffers from alopecia, a condition that has robbed her of a full head of hair since she was 11.
She has struggled for years to come to terms with her baldness, which she says is particularly difficult for female sufferers as they are "constantly ridiculed by society".
"Bald women are presented in the form of scary witches, like in Stardust, or as a joke that men aren't attracted to once the baldness is revealed, like in Friends.
"And society reinforces this - only the other week I saw a feature in a magazine where they had photoshopped One Direction to have no hair and asked the question: do you find them more or less attractive with no hair?
"What a ridiculous feature - would they do this if it was a leg or an arm? I don't think they would, so why should it be any different for hair?
"This is the attitude from society that every person dealing with any type of hair loss is facing; that they are deemed as less of a person because they don't look the way that society expects them too."
'Locked up'
She says she finds having alopecia a "daily frustration, something that you are constantly aware of", but that she is much better at dealing with it now than she was as a teenager.
"When I was 13, my sister jumped out on me and took a picture.
"I went absolutely nuts, because she had sent it to the shop to be developed and all the pictures used to go round in the machine, so everyone could see.
"I kept that photo locked up in a little lockable treasure chest until recently."
She says that fear of the camera has lessened since she was asked to appear in an exhibition by photographer Daniel Regan.
"When the project with Daniel came up, I really wanted to be a part of it.
"I didn't mind being photographed, because I'm OK with taking my wig off with just one or two people and Daniel was great.
"Being a part of it has changed my entire outlook and it has helped me on my journey with alopecia - and it's lovely to have such a nice photo of an aspect of yourself that is so often hidden away."
'Emotional build-up'
Being in the exhibition is what has led her to take an even bigger step and run in the Merseyside race without her wig in aid of Alopecia UK.
She said she is "really nervous" about doing it as she has her wig on "nearly all the time", but feels it is an important thing to do to shine a light on the condition and help fellow sufferers.
"I can feel a bit of an emotional build-up inside me and I know as soon as I'm away from everyone, I'm going to cry my eyes out when I realise what I've just done, but I know it will be fine.
"And hopefully, by what I'm doing, I'll raise awareness of alopecia and highlight not just the physical, but the psychological and emotional impact too, because I think we all generally keep it under wraps for fear of the 'it's only hair' attitude.
"You carry a lot of guilt around for feeling so bad about something that is perceived by others as something so minor.
"You end up keeping a lot to yourself, as it becomes increasingly difficult to put your experience into words in a way that others relate to.
"But if we don't tell people the impact that this is having on us every single day and speak out about it, then how will anything ever change?"