Sefton Park Meadows: Liverpool mayor given sale petition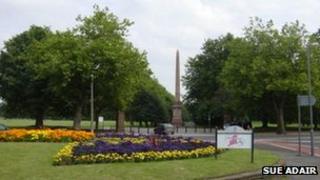 Campaigners opposing plans to sell off green land near Sefton Park have handed a 7,000 signature petition to Liverpool Mayor Joe Anderson.
Mr Anderson wants developers to buy the Meadows land to raise £10m for council funds.
But Martin Dobson, the chair of the Save Sefton Park Meadows Group, said: "We need this green space for our health and wellbeing."
A recent motion to stop the sell off was rejected by councillors.
Mr Dobson said: "The mayor says nobody uses the area, we have evidence that isn't true.
"People don't use it in the same way as the rest of the park but they do appreciate it."
Mr Anderson argues that the city has no choice but to sell the land due to government funding cuts.
An advert about the sale of the land was posted in the local press this week and people have until 14 June to register any objections.