Stephen French: Gun campaigner admits firearms offence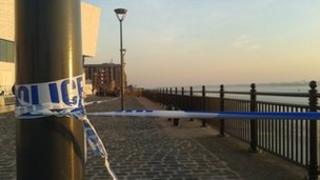 An anti-gun campaigner has admitted possessing an imitation gun after a dispute that saw police seal off part of Liverpool city centre.
Stephen French, 53, of Eleanor Park, Prenton, was arrested after armed officers responded to an argument on Water Street in March.
French, who also admitted possessing a bladed weapon, will be sentenced at Liverpool Crown Court on 3 July.
In 2008 he said he wanted to stop the spread of guns in Merseyside.
French was arrested after an incident in which the Liverpool One complex, including the Hilton Hotel, was sealed off for two hours by police following "an altercation" on Water Street.
In an interview with the BBC in 2008, Mr French said he had become an anti-gun campaigner because members of his family had been shot.