Cpl Stewart McLaughlin: Memorial for Falklands veteran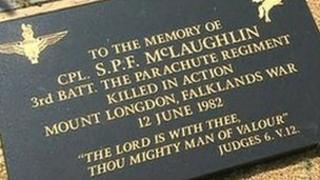 A memorial to a soldier who died in the Falklands War has been laid more than 30 years after his death.
Cpl Stewart McLaughlin, from Wallasey, Wirral, was a section commander in the 3rd Battalion Parachute Regiment which fought on Mount Longdon.
He died during the battle on 12 June 1982 at the age of 27.
A stone plaque has been laid next to the New Brighton war memorial and his family are campaigning for him to be awarded a posthumous Victoria Cross.
Cpl McLaughlin's brother Mark said he was a larger than life character and a "wonderful person".
"He was an immensely physically powerful man, a fair man who would do anything, as he did on the night he died, to help save the lives of his comrades," he said.
An account of the battle on Mount Longdon on the Royal Air Force's website records that Cpl McLaughlin "was wounded by shrapnel, then sustained a direct hit from another shell on his way to the medical post and died instantly" following an assault on Argentine positions.