Liverpool2: Mersey Estuary dredging project gets £35m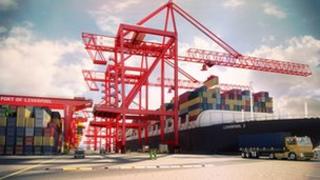 A dredging project in the Mersey Estuary that will allow larger ships to dock on Merseyside has been awarded £35m by the government.
The dredging is part of Peel Ports Group's (PPG) expansion of the Port of Liverpool and will deepen the Mersey approach channel to 16m (52ft).
The project will help create the £300m Liverpool2 container terminal at Seaforth.
A PPG spokesman said the terminal was expected to create 5,000 jobs.
The grant was announced as work began on the construction of the terminal, which is due to open in 2015.
The dredging project, which is being carried out by PPG subsidiary Mersey Docks and Harbour Company, is expected to cost £40m in total.
A spokeswoman for PPG said the deepening of the channel would allow access for post-Panamax container ships - vessels capable of carrying more than 4,000 containers and which are too large to fit through the original Panama Canal.
Liverpool2 will allow vessels carrying up to 13,500 containers to call at the Port of Liverpool. The port is currently limited to accepting ships with fewer than 3,500 containers.