Liverpool's Central Library reopens after £50m facelift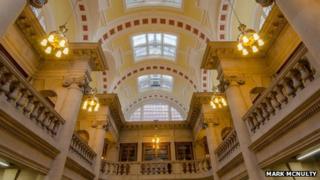 Liverpool's Central Library has reopened to the public after a £50m refurbishment that has taken more than two years.
The refurbishment was the result of a decade of planning and it took four months to re-stock four million books, prints and paintings.
The library, on William Brown Street, originally opened in 1860.
Rare treasures include the original 1207 Charter signed by King John, which granted Liverpool city status.
There is also an "extremely valuable" copy of The Birds of America, by naturalist and painter John James Audubon, as well as paintings by the 19th Century artist Edward Lear.
During the renovations, the facade of the Grade II* listed building, specialist libraries and reading rooms were restored.
New facilities, including a temperature-controlled repository, have been built.
Giant books
The Oak Room, which dates back to 1914, was previously only viewed by appointment but is now open to all.
A literary pavement, leading to the library entrance, displays the names of writers and titles from the world of books, cinema and music from Pride and Prejudice to Ulysses; Schindler's List to Apocalypse Now.
Bombed during World War II, most of the library, except for the façade, was destroyed and later rebuilt and extended in the 1950s and 1970s.
The library is also taking part in LightNight, when the city's museums, galleries and heritage sites open late.
It will be lit up with an interactive digital display in which giant books will be projected on to the facade.
When people select one of 16 featured books it will come to life on the wall - for example, if Alice in Wonderland is chosen, an animation of Alice will be seen leaping from window to window, peering inside.