Liverpool cocaine and heroin couriers jailed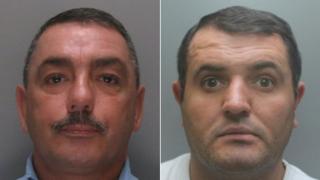 Members of a Liverpool-based gang that supplied cocaine and heroin worth tens of millions of pounds to Glasgow have been jailed.
Eleven men who worked as drugs couriers and provided safe houses in Merseyside were jailed at Liverpool Crown Court.
The gang's ringleaders were jailed on Tuesday and 10 other men are still to be sentenced.
North-west England's organised crime unit, Titan, estimated the drugs had a street value of between £100m to £200m.
Titan said the gang made at least 111 trips to Scotland.
On Tuesday, father and son ringleaders Christopher Welsh Snr, 55, of Regal Walk, and Christopher Welsh Jnr, 34, of Payley Close, were jailed for 15 years and four months and 16 years and eight months respectively.
Police said Welsh Jnr's lavish lifestyle included paying £57,000 in cash to take 40 relatives and friends to his stag do and wedding in Mexico.
The gang members who were jailed, all for conspiring to supply heroin and cocaine, were:
Christopher Riley, aged 43, of Jason Walk, Everton, who was jailed for 10 years, eight months
Roy Breeze, aged 40, of Lapworth Street, Everton, sentenced to three years
Colin Harrison, aged 60, of Patmos Close, Everton, jailed for eight years
James Welsh, aged 26, of Cardigan Way, Newsham Park, who received eight years
Kevin O'Shea, aged 30, of Adelaide Road, Kensington, jailed for 11 years, four months
Liam Clotworthy, aged 30, of Saxony Road, Kensington, sentenced to eight years, eight months
Anthony Breen, aged 47, of Linton Street, Walton, given eight years, four months
Kenneth Fletcher, aged 51, of Barnton Close, Bootle, jailed for 10 years
Kevin Jackson, aged 60, Pendennis Street, Anfield, given six years, eight months
David Chambers, aged 32, of Washbrook Avenue, Prenton, Wirral, who received six years
Abraham Salim, aged 34, of Rutland Street, Preston, jailed for five years