Meccano founder Frank Hornby's 150th anniversary marked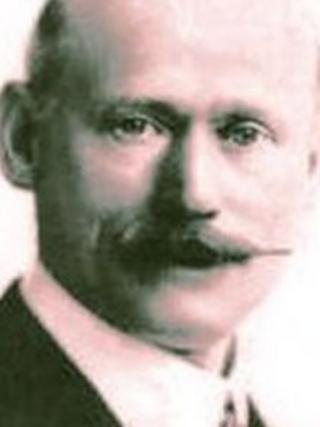 Celebrations have started on Merseyside to commemorate the 150th anniversary of the birth of the inventor of Meccano, Hornby trains and Dinky toys.
A four-day festival starts later celebrating Liverpool-born Frank Hornby, who is buried in the churchyard of St Andrew's Church, in Maghull.
Hornby first made the metal construction set toy Meccano in a one room factory in Liverpool in 1901.
The first Hornby festival includes a play and a Hornby exhibition.
Google Doodle
A lecture celebrating Frank Hornby will take place at the Museum of Liverpool while elsewhere in England there is a Frank Hornby Week which started on Monday at Brighton Toy and Model Museum.
Search engine Google is also marking Hornby's birth with a Google Doodle.
The Rector of Maghull, Canon Nick Wells, who is based at St Andrew's, had the idea to celebrate Hornby's birth two years ago after finding a large model Hornby railway in his father's house.
He said the idea crystallised when he looked at Frank Hornby's birth date while viewing his grave in St Andrew's Churchyard.
The festival starts with an opening ceremony at 19:00 BST in Maghull Town Hall.
Meccano was created when Hornby made a mini-construction kit for his sons Roland and Douglas.
Clockwork trains
The toy crane, made out of perforated metal strips, could be dismantled with the parts used to make different models. He immediately saw a future for the versatile toy and set to work producing it for the mass market.
Patented on 9 January 1901 as 'Mechanics Made Easy', it became known as Meccano in 1907 and went on to take the toy world by storm.
He also devised die-cast toy model cars under the Dinky Toys brand and Hornby model trains which started as clockwork trains.
By 1931 Hornby was the owner of a multinational business, MP for Everton, and a millionaire with a mansion in Maghull.
He died on 21 September 1936.
The company's HQ was at Binns Road, in Wavertree, in Liverpool for more than 60 years.
A decline in profits saw it taken over by Lines Brothers in 1964 and the Airfix Group in the 1970s. The Binns Road factory finally closed in 1979.
In 2009 TV presenter James May unveiled a 75ft (23m) long Meccano footbridge, over a Liverpool canal, which was created by University of Liverpool architecture students.