Liverpool marks Baroness Thatcher funeral with 'party'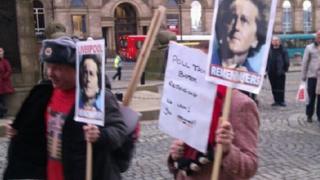 More than 200 people have gathered for a "party" to mark the funeral of former Conservative Prime Minister Margaret Thatcher.
Chanting "Maggie, Maggie, Maggie, dead, dead, dead" and "justice for the 96", they assembled on the steps of St George's Hall, Liverpool at 18:00 BST.
The city has not returned a Tory MP since 1979 - the year Lady Thatcher swept to power.
The union flag was not flown at half mast over the Liverpool town hall.
Liverpool City Council also decided not to show the funeral on the big screen in the city.
Musician Brian Farrell, 64, said: "I had to come because of what Mrs Thatcher did to this city."
Grandmother Margaret Sampson, 55, said: "I wanted to be here because of what she did on Hillsborough, to the miners and to people everywhere."
Labour politicians such as Steve Rotheram, Labour MP for Liverpool Walton, has said that Baroness Thatcher left behind "a Liverpool and a Britain that is still reeling from her eleven-and-a-half years in office and divided on her legacy".
But Sir Malcolm Thornton, former Conservative MP for Liverpool Garston and later Crosby, responded: "Liverpool was part and parcel of the Britain she cared about and wanted to change in a fundamental way."
Baroness Thatcher was in power when 96 Liverpool fans died following a crush on terraces at Sheffield Wednesday's Hillsborough ground during the FA Cup semi-final between Liverpool and Nottingham Forest in April 1989.
An independent report found police deflected blame for the disaster on to innocent fans and ex-Home Secretary Jack Straw has claimed Margaret Thatcher's government created a "culture of impunity" in the police that led to the cover-up.