Wirral Council introduces surcharge for larger coffin cremation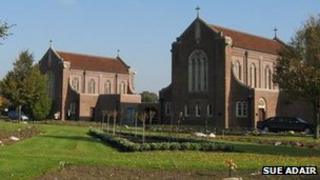 A council is to charge extra for cremations of larger coffins to reflect the "additional time and energy" needed.
Wirral Council introduced a 33% surcharge for coffins more than 29 inches (74cm) wide or 7ft (2.13m) long.
It follows the installation of larger cremators at Landican Crematorium.
A spokesman said since the installation the two machines had dealt with seven larger coffins.
He added: "It is not something there is exceptional demand for."
The new cremators were installed in 2012. Previously, larger coffins had to be dealt with outside the borough or families had to opt for burial instead.
Cremations in Wirral are charged at different rates depending on the time of day - a charge of £560 for a ceremony between 09:00 and 09:30 rises to £634 for one between 14:30 and 15:30.
The new surcharge will see those prices rise to between £744 and £843.
The spokesman said the increase was "in keeping with general practice", adding that "some other authorities set the threshold for levying the charge much lower".
However, he said the Wirral charge "reflects the additional time and energy it takes to process larger cremations".
In nearby Sefton, the council approved an increase of the cost of a cremation from £600 to £750 in January, with an additional charge of £250 for coffins over 30 inches (76cm) wide.
At the time, the council said the increase meant the Sefton price was "likely to be the most expensive charged locally, regionally and nationally".