Royal Liverpool Hospital: Funding approved by government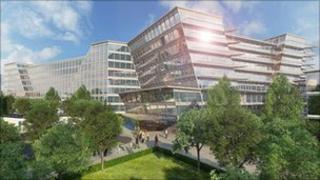 The government has given the go-ahead for the building of Liverpool's new £425m hospital.
It will replace the Royal Liverpool University Hospital, opened in 1978.
The Department for Health and the Treasury have approved the funding and the hospital is now assessing bids from two construction companies.
A decision is expected in the next few weeks on which of the bidders - Carillion or Horizon - will design and build the hospital.
The Royal Liverpool University and Broadgreen Hospital Trust said after the bidder is appointed, final planning permission would be obtained, with work on the hospital expected to begin early next year.
Chief executive Aidan Kehoe said he was "delighted" with the news.
Liverpool Riverside MP Louise Ellman, said: "This is a vital project for improving health standards in Liverpool and regenerating the city."
It is hoped the new hospital will open in 2017.