Paul McCartney's old front door sells for £5,060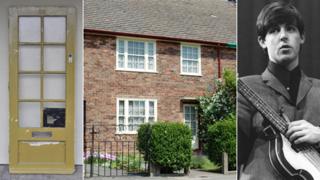 The front door of the childhood home of Sir Paul McCartney has been sold for more than £5,000 at auction.
The wooden door was on the house at 20 Forthlin Road, Allerton, Liverpool, when the Beatle lived there from 1955 to 1964.
It was bought at Dominic Winter Auctions, based in Cirencester, by a telephone bidder from Chorley in Lancashire.
The house is now a National Trust property which is open to the public.
The hammer came down at £4,100 with the final figure £5,060 once the auction house's premium was added.
'Happily surprised'
Auctioneer and valuer Chris Albury said: "It was a bit nerve-wracking, as all these odd things are which can draw huge amounts of attention, but when it comes down to it only a small number of bidders actually wanting to buy such a thing.
"There were two phone bidders and a couple of commission bidders, so the bidding started at £3,000 and crept up in £100 increments till it got to the final hammer of £4,100.
"The winning phone bidder was Tracks, specialist Beatles dealers from Chorley, Lancashire - so it was back to the county from whence it just came."
He added: "We are very pleased indeed and the vendor Glen South, who had no expectations, is happily surprised."
The house in Forthlin Road, where McCartney lived from the age of 13 to 22, was listed as a Grade II building by English Heritage last year.
Several Beatles songs are believed to have been composed there, including Love Me Do, I Saw Her Standing There and When I'm Sixty-Four.
When the McCartney family left the house in 1964 it was taken by Sheila Jones and her family, who refurbished it in about 1978, throwing out the doors, window fittings and tiles.
Mr South, a local musician, heard about the door, and collected it from the house. He kept it behind his sofa at his home in Lancashire.
Sir Paul's bedroom door from the same house sold at a London auction in 1995 for £2,875.