Man in court over murder of step-grandmother Janis Dundas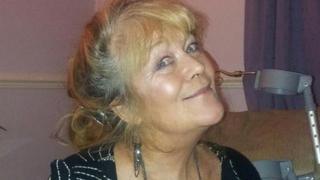 A 20-year-old man has appeared in court charged with the murder of his step-grandmother at her home in Cheshire.
Janis Dundas, 63, was found dead at the house in Atherton Road, Ellesmere Port, on Friday.
She had suffered several knife injuries that resulted in her death, police said.
Jack Alan Huxley, of Ellesmere Port, appeared before Chester magistrates. The case was remitted to Chester Crown Court for a hearing on 29 April.
He has also been charged with aggravated vehicle taking, property damage and possession of a knife.
In a statement Ms Dundas's family said: "Janis was a truly unique woman; generous, gregarious, canny, convivial, she lived for the moment, refusing to ever see the bad in people.
"As a mother, a grandmother, a sister and a friend, in her mind no bridge was ever too broken to mend.
"She will be sadly missed by all of her family and friends who are deeply shocked by this tragedy."