Hillsborough memorials unveiled in Liverpool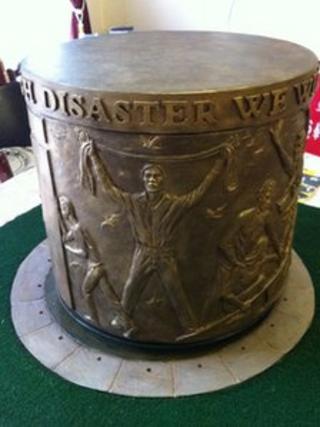 Two memorials to the 96 people who died in the Hillsborough tragedy are to be unveiled in Liverpool city centre.
A clock has been installed at the town hall and a memorial monument has been erected on Old Haymarket.
Mayor of Liverpool Joe Anderson said they would be "a permanent reminder of the long and difficult fight for truth and justice".
Two dedication ceremonies will be held on Sunday, the eve of the football stadium disaster's 24th anniversary.
Mr Anderson and the Lord Mayor of Liverpool, Sharon Sullivan, will lead a private ceremony at the town hall for the dedication of the clock at midday.
'Never forget'
The ornate mahogany clock, which is from National Museums Liverpool's collections, was made in the 1780s by John Clifton and stands 8ft (2.4m) tall.
The hands on its 13" (33cm) arch dial, which features the sun and moon rising, will be frozen at 3.06pm, the time the FA Cup semi-final between Liverpool and Nottingham Forest was stopped on 15 April 1989.
The commemorations will then move to Old Haymarket, where the memorial monument will be officially dedicated at a public ceremony at 14:00 BST.
Created by Liverpool sculptor Tom Murphy, the 7ft (2.1m) bronze structure features the words "Hillsborough Disaster - we will remember them", along with the names of all 96 Liverpool FC supporters who died on the Leppings Lane terraces.
The Old Haymarket ceremony will give families and members of the public the chance to see the monument for the first time.
Mr Anderson said: "We will never forget those who lost their lives at Hillsborough, or the impact the disaster has had on their bereaved families.
"The anger, pain and sorrow they have felt for the past 24 years is shared by everyone in Liverpool, and by thousands of others across Merseyside, across the country and around the world."