Sir Norman Bettison stripped of John Moores University honour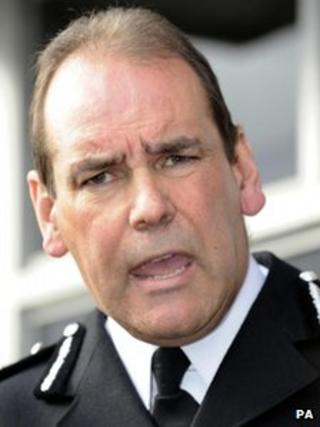 A university has stripped Sir Norman Bettison of an honorary fellowship in the wake of the Hillsborough scandal.
The former chief constable of West Yorkshire Police and Merseyside Police was given the honour by Liverpool John Moores University in 2004.
The honour was withdrawn after a report published by the Independent Police Complaints Commission (IPCC) in March.
It said Sir Norman would have a "case to answer for gross misconduct" if he was a serving officer.
The Hillsborough families believe he was involved in a cover-up which attempted to lay blame for the tragedy on to the 96 victims.
Families commended
At the time of the disaster on 15 April 1989, he was a South Yorkshire Police inspector who attended the match as a spectator and later took part in an internal inquiry.
Sir Norman resigned as chief constable of West Yorkshire Police last October.
He said an inquiry into his role after the Hillsborough tragedy was "a distraction" to the force.
His police authority asked the IPCC to look at his role following the disaster, and this investigation is continuing.
Last month's report related to a separate referral to the commission after allegations he interfered with the main referral process.
The IPCC said on 28 March that the issue was Sir Norman's desire to refer himself to the commission and, therefore, control the process.
The report concluded: "It is concerning that his first thoughts appear to have been to protect his own position."
His lawyers said in response that he had not been found guilty of anything.
'Remove knighthood'
Liverpool John Moores University said: "In light of the conclusions published by the Independent Police Complaints Commission, Liverpool John Moores University has withdrawn the honorary fellowship awarded to Sir Norman Bettison in 2004.
"As previously stated the university would like to commend the families and friends of those who died in the Hillsborough tragedy for the dignity and fortitude they have shown during their lengthy campaign for justice."
Margaret Aspinall, chairwoman of the Hillsborough Family Support Group, said: "It's great to know that John Moores University has done the right thing.
"Let's hope now that the next step is the removal of his knighthood."