A tall tale: The Childe of Hale remembered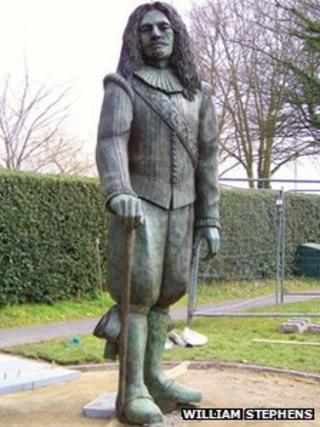 'Here lyeth the bodie of John Middleton, the Childe - nine feet three'.
The village of Hale in Cheshire is rightly proud of its most famous son, who, according to folklore, was one of the tallest men in history.
Born in 1578, the 'Childe of Hale', as he became known, grew to a scarcely believable height of 9ft 3in (2.82m), if his epitaph is to be believed.
Sadly, no official record of John Middleton's true height exists to prove - or disprove - his gravestone's lofty claim.
The only estimate comes from a life-size impression of his right hand which Guinness World Records said indicated "a probable height of 7ft 9in (2.36m)" - somewhat shorter than the legend but impressive nonetheless.
A three-metre high bronze statue of the Childe of Hale has now been installed by villagers to honour their outsized ancestor.
Nick Martin, from Halton Borough Council, accepted that John Middleton's height had "grown bigger through the years."
"He was supposed to have been exhumed and the bones measured in Victorian times, and that's when they roughly worked out his height at 9ft 3in," he added.
"So we have more or less settled on that."
King's wrestler
Most of what is known about John Middleton, who died almost 400 years ago, is based on myth and folklore.
It is said that when King James I learnt about the Childe of Hale's great height, he invited him to his court.
"He challenged the King's wrestler in the King's court, and he won," said Mr Martin.
"He was given £20 for travelling down there, a great deal of money in 1600, but was apparently swindled out of it on his way home".
On his return, it is thought Middleton visited Brasenose College in Oxford with his patron, Sir Gilbert Ireland, who had studied there.
Elizabeth Boardman, archivist at the college, said it was there they measured the span of his hand - reputed to be between 15 and 17 inches (38-43 cm).
"The tradition is John Middleton left an impression of his hand on the wall - we know that Samuel Pepys saw that in 1668, but it doesn't survive anymore".
But the college's fleeting association with John Middleton is still remembered.
A portrait of the Childe hangs in the college's chapel and Brasenose College Boat Club, reputedly one of the oldest in the world, calls its rowing first VIII "The Childe of Hale".
'A big draw'
The new statue in Hale replaces a wooden sculpture carved from a beech tree by sculptor Philip Bews in 1996.
Situated opposite the church where Middleton is buried, the old sculpture recently had to be removed after the wood started to rot away.
Mr Bews's wife was given the task of creating a permanent memorial to the Childe of Hale.
Sculptor Diane Gorvin said: "The villagers felt the old sculpture had been quite a big draw to the village and they wanted a new one.
"I've depicted him as if he's just paused on a walk, leaning on a stick and looking across towards the cottage where he lives.
"It gives people the opportunity to stand next to him, hold his hand and look up to him. I'm hoping it will become an important part of Hale village."
Whether John Middleton, the Childe of Hale, ever exceeded a height of nine feet - greater than the tallest human ever known - may never be confirmed.
Guinness World Records has only recorded 10 confirmed or reliable cases of humans reaching over 8ft in height.
Robert Wadlow, from the US state of Illinois, measured 8ft 11in (2.72m) when he died in 1940 - the tallest man in medical history.