Bestival coach crash victim Michael Molloy honoured with Liverpool music award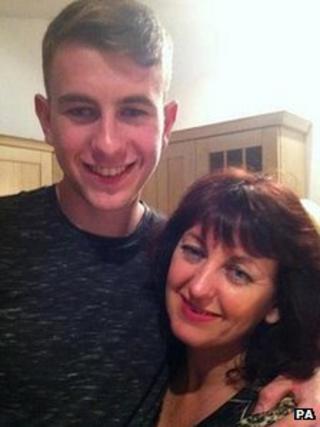 A musician who died in a crash while returning from a festival is to have a music award named in honour of him.
Michael Molloy, 18, of Woolton, Liverpool, was among three people killed when a coach returning from Bestival crashed on the A3 in Surrey.
The Michael Molloy Ones To Watch Award, which will go to a band aged between 16 and 21, will be presented at the Liverpool Music Awards in August.
His mother, Frances, said the award was "the most fitting tribute to date".
"Michael has always made us so proud and he never doubted in his short life that he would be recognised for his musical talent," she said.
"This has brought us such comfort as it keeps Michael's memory alive as a musician."
'Tragic death'
The Liverpool Music Awards director Ellie Phillips said the city's mayor Joe Anderson had asked that an award be renamed in tribute to Michael.
"I think it is brilliant that he will be remembered in this way, because he was quite clearly an up-and-coming musician himself," she said.
Mr Anderson said the 18-year-old's "tragic death shook all those who knew and loved him" and we "wanted to do something to make sure his music lived on".
Mr Molloy, driver Colin Daulby and Kerry Lynne Ogden died when the 52-seater Merseypride Travel coach crashed between the Hindhead Tunnel and Thursley exit on 10 September.
The naming of the award follows the Molloy family's decision to release a song which Michael recorded through the Bestival organiser Rob Da Bank's record label, Sunday Best.