Childe of Hale bronze statue's face revealed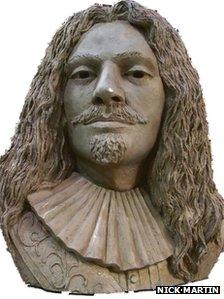 The face of a new bronze sculpture of a 16th Century giant has been revealed ahead of its unveiling.
The statue of John Middleton, who was known as the Childe of Hale, will replace a wood carving of him which has stood in Halton since 1996.
The £50,000 work, which has been paid for by the Heritage Lottery Fund, will be installed in the village on 8 April.
Halton Council's Mike Wharton said it would be a "fascinating addition to Hale's heritage".
John Middleton, who lived around the turn of the 17th Century, was said to have been more than 9ft (2.70m) tall.
The life-size bronze statue will be sited on a green outside the village's manor house.
It has been designed by sculptors Phil Bews, who carved the original wood sculpture, and Diane Gorvin.
In 1996, Mr Bews carved a Childe of Hale statue out of a dead beech tree, which a council spokesman said "residents and visitors came to love and accept as an iconic part of the local landscape".
However, he said the wooden statue had become "infested with woodworm and disease and had to be removed for safety reasons last year".
Mr Wharton said the council had "taken time to make sure we have something which will be appreciated and be a conversation piece as well as representing one of Hale's most famous sons".
The council spokesman said the design of the bronze statue had been proposed "after a consultation with villagers, who were shown different ideas and locations and were asked for their views".
The sculpture will be officially unveiled by the Lord Mayor of Hale on 11 April.
Related Internet Links
The BBC is not responsible for the content of external sites.