Wirral disabled day care centre to close in funding cuts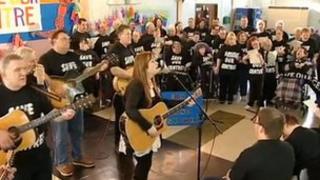 One of three Wirral day care centres for adults with disabilities is to be closed despite a campaign to save them.
Shutting one of the centres in either Moreton, Heswall or Eastham is part of Wirral Council's plans to save £42m in the next financial year.
The decision about exactly which centre will close is to be made after a three-month public consultation, the council said.
More than 14,000 people have signed a petition against the plans.
Campaigners have written and recorded a song called Stand Together in protest at the closures.
Youth centre closures
The Labour leader of the council, Phil Davies, said he was angry the authority was having to make the savings.
At the full council meeting held on Tuesday, it was also decided to cut council tax by 2% and £5m has been allocated to help vulnerable families and those affected by domestic violence.
Four out of 11 youth centres are also to be closed and sponsorship of Tranmere Rovers Football Club will end.
The authority is cutting 350 posts and will also ask staff to take five days of unpaid leave a year as it tries to reduce costs.
The council currently employs about 4,800 staff members who would be affected by the leave changes and are at risk from job cuts.