Liverpool Waters £5.5bn plans approved by government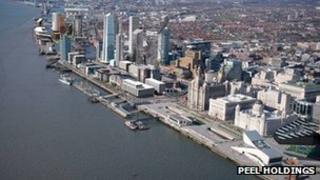 Plans for a £5.5bn redevelopment of Liverpool's docklands have been given the final go-ahead by the government.
Skyscrapers, a cruise liner terminal and thousands of apartments will be built on the currently derelict site by Peel Developments.
The firm claims it will create up to 20,000 jobs and strengthen the region's economy.
But United Nations officials have warned the development will put the city's World Heritage status at risk.
The plans were approved by Liverpool City Council in September before being submitted to the Department for Communities and Local Government.
'Best of the best'
A spokesman said: "Ministers have carefully considered all the relevant planning issues raise by the application and have concluded that they are content to leave the decision to the local planning authority who are best placed to determine the application."
The United Nations Educational, Scientific and Cultural Organization (Unesco) said the project could "irreversibly damage" the city's historic docklands and the committee put the city on an "in danger" list in June.
Unesco has warned Liverpool may lose the "outstanding universal value" for which it was granted World Heritage status in 2004.
Lindsey Ashworth, of Peel, said: "It's simply not right to expect derelict parts of cities with such a rich history to stand still and be fossilised.
"This consent will open up opportunities and new prospects to link our UK businesses with other international businesses. Liverpool is now well placed to be alongside the best of the best."
Mayor of Liverpool Joe Anderson said the architectural heritage of the area could be protected as regeneration takes place.
He added: "This is fantastic news for Liverpool.
"Today's announcement marks the start of a new era for Liverpool, paving to way to us delivering a world class development which will transform a part of the city that has been in desperate need of investment for decades."