Anne Williams 'would not give up' her Hillsborough campaign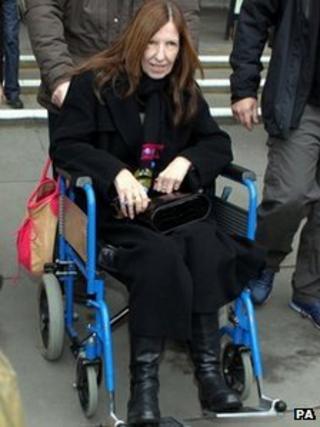 "A mother who wouldn't give up", Anne Williams spent the last 23 years of her life fighting to see justice done for her son Kevin, who died in the 1989 Hillsborough disaster.
Despite having terminal cancer, the 60-year-old travelled to the High Court, London, in December to hear the quashing of the accidental death verdicts for the 96 fans who died.
"It's been worth it", she said outside the court, "I was never going to give up."
Mrs Williams' goal was for a new jury to hear the facts, which were not presented to the original inquest, about Kevin's death at the age of 15.
At that inquest in 1991, jurors heard Kevin and 94 others were dead by 15:15 GMT.
Inquest calls rejected
But Mrs Williams' quest for the truth saw her track down witnesses, one of whom suggested Kevin uttered the word mum at around 16:00.
Her calls for a fresh inquest were rejected by three attorney generals and the European Court of Human Rights.
But everything changed when the landmark report by The Hillsborough Independent Panel, published in November, found that 41 fans could have been saved, casting doubt on the "15:15 cut off" imposed by the coroner.
The attorney general applied for fresh inquests and home secretary Theresa May announced a new police inquiry into the disaster.
Although she did not live long enough to see the new inquests take place, she did make it to the 24th annual memorial service at Anfield on 15 April - the first held since the Hillsborough Independent Panel exonerated fans of blame.
And tributes came pouring in for "resolute" campaigner Mrs Williams for her "dignified defiance" throughout.
'Example to everybody'
Steve Rotheram, Labour MP for Liverpool Walton, who was working as a bricklayer when he attended the match in Sheffield, said at the time: "She has been so resolute in not accepting the excuses that were often placed at her door.
"I cannot say enough how much her persistence has been an example to everybody."
Bishop James Jones, who chaired the panel, said Mrs Williams "maintained a dignified defiance" during the campaign.
Liverpool actor and Hillsborough survivor Neil Fitzmaurice said her journey was "an incredible story of dedication to her son and of just being a mum".
He added: "Anne's story is very tragic. Talk about the David and Goliath, that woman took them on with a lot of help from friends but she spearheaded that herself, just as a mother who wouldn't give up."