Archbishop Patrick Kelly's resignation accepted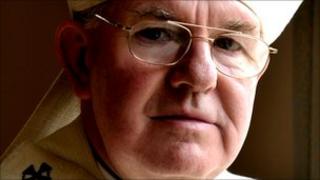 The resignation of the Archbishop of Liverpool, the Most Reverend Patrick Kelly, has been formally accepted by the Pope.
The 74-year-old archbishop made the request in January, after suffering a stroke at the end of last year.
A spokesman for Archdiocese of Liverpool said his resignation would take effect immediately.
His final address to the city will take place during the mass at Liverpool Metropolitan Cathedral on Thursday.
Archbishop Kelly will continue to live at Archbishop's House in Liverpool until his successor is appointed.
The Right Reverend Thomas Williams, Auxiliary Bishop of Liverpool, will carry out his duties until that time.
All Roman Catholic bishops are obliged to tender their resignations to the Pope on their 75th birthday. In some instances the Pope may ask a bishop to remain in office.
The Morecambe-born archbishop celebrated 50 years as a priest in 2012.
He was appointed Archbishop of Liverpool in 1996, having served previously as Bishop of Salford.
The Archdiocese of Liverpool covers the Liverpool side of Merseyside, the south west of Greater Manchester, West Lancashire and the Isle of Man.