Remains of two Roman roads found in Chester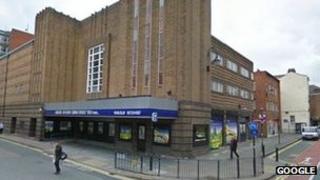 Archaeologists exploring the foundations of a new theatre being built in Chester have discovered the remains of two Roman roads.
The roads are made from sandstone rubble and gravel and run parallel with the present Northgate Street.
They were found in exploration trenches being dug at the abandoned Odeon cinema on Hunter Street.
Fragments of Roman and medieval pottery have been also been found, Cheshire West and Chester Council said.
Mike Morris, historic environment project manager, said the site lies in the northern part of a former Roman fortress which includes barrack blocks and accommodation. It could also have been part of the governor's enclave.
He said: "While it is still too soon to make definite forecasts, the excavations may well give us a clue to the purpose of a large mystery building believed to have been sited within the area.
"Most Roman fortresses across Europe were built to the same pattern, but Chester is certainly larger than most and one theory about the building is that its purpose was to house visiting dignitaries."
The planned £40.5m theatre venue will also incorporate a cinema and the city's library.