Kirkby Sonae plant owners admit fire liability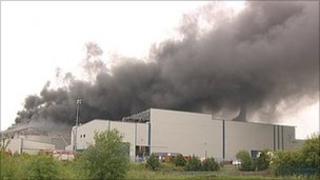 The owners of Merseyside factory have admitted liability for a fire which burned for eight days in 2011.
About 10,000 people living near the Sonae chipboard site in Kirkby are bidding for compensation, arguing fumes from the blaze affected their health.
The Portuguese company Sonae Industria stopped production in September 2012.
A spokesman confirmed that while the firm admitted a "breach of duty", further legal hearings must take place in relation to compensation payments.
"The question of whether anybody has suffered an injury, which is recognised in law and is entitled to compensation, will be the subject to further detailed investigation by the court," he said.
'Significant milestone'
It means each claimant will have to prove they were individually affected.
The claims are being brought by a number of Merseyside law firms, with Camps of Birkenhead acting for 4,500 people.
Joint managing director at Camps, Colin Billing, said: "We welcome today's development which is a significant milestone for thousands of our clients.
"We will now take their claims to the next stage on a case by case basis to win the appropriate and rightful compensation for the local people who have suffered the damaging consequences of this enormous fire."
Sonae closed last year with the loss of 220 jobs. It said delays in rebuilding the site after the blaze had led to reduced production levels.
Planning permission allowing part of the factory to remain was granted by Knowsley Council, but the firm said delays in its approval were unfair and had wasted resources on both sides.
MP's intervention
The council said it did not accept there had been a negative impact on the business as it had continued to operate throughout 2012.
As well as the major fire in 2011, the plant was affected by a second fire in January 2012.
Three contract workers have also died at the site in the past three years.
In 2011, Labour MP for Knowsley George Howarth tabled an Early Day Motion in the Commons in which he said the complex posed "a considerable risk" to the public, workforce and fire service, after blazes and accidents had affected the plant.