Bishop of Liverpool James Jones to retire in August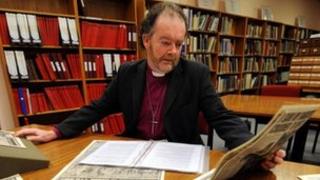 The Bishop of Liverpool The Right Reverend James Jones is to retire on his 65th birthday, in August.
The Bishop, who led the Hillsborough Independent Panel to uncover the truth about the 1989 disaster, announced his decision in a letter to his diocese.
He said by standing aside he would give his successor the opportunity to form a new leadership team.
The diocese will be led by the Bishop of Warrington, The Right Reverend Richard Blackburn.
He will be supported by Archdeacons and Area Deans.
Hillsborough adviser
In the letter to the diocese, Bishop Jones said: "It has been a privilege as bishop to serve the wider community, not least in chairing the Hillsborough Independent Panel.
"The diocese has recognised the rightness of me doing this which has given me great strength.
"The way the families and survivors have received the panel's report and the way truth is now opening up the path to justice affirms the worth of the panel's work."
The bishop took up the position in 1998 having been Bishop of Hull since 1994.
He was appointed by the home secretary to chair the Hillsborough Independent Panel in 2009, and will remain as adviser to the home secretary on Hillsborough after he retires.
During his time in Liverpool, he has been highly involved in urban regeneration across the city, and has championed community-led regeneration in lectures, articles and broadcasts.
Farewell service
He has also chaired the independent forestry panel, which called for England's woods and forests to be reassessed and revalued and led to the government's decision not to sell off publicly owned forests and woodlands.
The Archbishop of Liverpool the Most Reverend Patrick Kelly, who announced his own retirement this month after suffering a stroke, has paid tribute to the Bishop.
He noted the "loving commitment" with which he worked on the regeneration of Kensington and the Hillsborough inquiry.
"Now our prayer must be that with their whole family they will be blessed with serenity, joy and peace," he said.
A farewell service will be held for the Bishop at Liverpool Cathedral on 3 July.