Setback for Chester's £40.5m theatre and cinema complex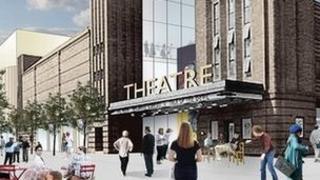 Plans for a £40.5m theatre and culture complex in Chester have suffered a £5m setback.
A bid for capital investment funding to the Arts Council was unsuccessful.
The complex planned for the former cinema in Northgate Street includes a 800-seat theatre and a 200-seat theatre, two cinemas and a library.
Cheshire West and Chester Council's Stuart Parker said it "remained committed to a providing first-class theatre and cinema venue".
'Very competitive'
The executive member for culture and recreation said the news was "disappointing but not entirely unexpected".
Mr Parker said: "We are aware of how heavily subscribed Arts Council funding streams are and the difficult decisions it faces in balancing need against budget provision, particularly having recently undergone funding cuts.
"We are now investigating alternative funding streams to make up the £5m shortfall including taking advice from the Arts Council regarding the viability of making an application under the next tranche of funding in April."
Jane Beardsworth, north west regional director for Arts Council England, said applications for funding were "very competitive" and there were stronger bids.
She said: "We will be meeting with representatives shortly to discuss how we can support them in realising this project."
The venue is planned for the existing Grade II-listed frontage of the former Odeon cinema which closed in 2006.
Bennetts Associates Architects, which was also responsible for renovating Stratford-upon-Avon's Royal Shakespeare Theatre in 2010, are behind the designs for the complex.
The council has committed £23m from its capital programme to the project, with a further £6m from fundraising and £6.75m from other council funding sources.