Liverpool University plans to open London campus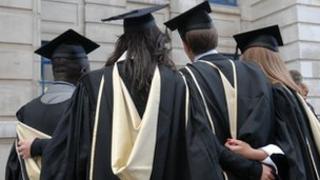 The University of Liverpool is planning to open a campus in London.
The campus will offer postgraduate courses for UK and overseas students in subjects including accounting, architecture and public health.
The university has submitted a planning application to transform a building in Finsbury Square, with a view to offering courses from September.
Pro-vice chancellor Kelvin Everest said it would widen the reputation, profile and strength of the university.
'Satellite operation'
He said: "We are a global university, all the international league tables put us in the top 1% of universities in the world and these days universities at that level need to operate right around the world.
"We already have a university in China and we have more than 6,000 students there, we are looking to open up in other parts of the world and we don't see any reason why London shouldn't be included for certain kinds of courses."
He said the university's "satellite operation" would start small but would grow in years to come.
He added: "We think we will get about 1,000 students in over five years.
"These are not students who would otherwise have come to Liverpool, these are students who value the degree but because with their own career aspirations and background would probably choose a London base anyway."
A spokeswoman for Birkbeck, University of London, said she was "not surprised to hear about Liverpool's plans to open a campus" as London offered "unparalleled cultural and social opportunities [and] close proximity to many global businesses".
"London is an incredibly attractive destination for students from across the UK and around the world," she said.
She added that London was home to "more universities than there are in the whole of Australia" but that Birkbeck would be happy to "welcome Liverpool to the capital".