Two baby elephants born at Chester Zoo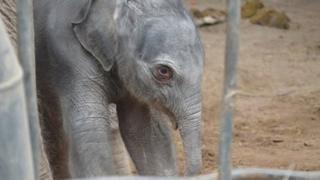 Two Asian elephants have been born within a few months of one another at Chester Zoo.
The youngest calf arrived on Monday to parents Sithami and Nayan after a 22-month gestation, and was on its feet within three minutes of being born.
Another female, Sundara, born in 2004 had a calf at the end of November, the zoo said.
Curator of mammals Tim Rowlands,said it was "wonderful" to watch them bond with the herd of eight other elephants.
Chester Zoo is part of a breeding programme focusing on sustaining the elephant population in Europe.
It is not yet known whether the new calf is male or female.