Prince of Wales visits Merseyside manufacturers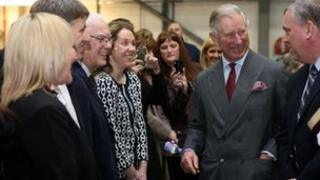 The Prince of Wales used a visit to Merseyside to launch a drive to get more young people into manufacturing and engineering.
Prince Charles visited the Jaguar Land Rover production plant at Halewood, marking the start of the former Ford plant's 50th anniversary celebrations.
He unveiled a £2.4m boost for Business Class, a scheme which helps firms work with schools in deprived areas.
He also launched a roll-out of Industrial Cadets.
The scheme aims to interest 12 to 14 year olds in the manufacturing industry in their local area.
'Celebrate success'
While at Jaguar Land Rover (JLR), Prince Charles visited the production line and training facilities, before moving on to Knowsley Primary School.
The prince warned that Britain was in danger of relinquishing its world class reputation if more young people were not attracted into the industries.
He said: "Too often it seems forgotten in this country that Britain is very good at manufacturing and has all sorts of remarkable skills of ingenuity, inventiveness and how to put brilliant ideas into production.
"As a country, we are rightly proud of our industrial heritage and we should also celebrate our continued success as a standard-bearer for quality manufacturing and engineering throughout the world."
He also opened the recently-restored Florence Institute for Boys in Dingle, known as "The Florrie".
During the afternoon the prince visited specialist fishing rod manufacturer Harrison Rods in Liverpool and ATG Access, a security company in Haydock.