Liverpool MP's Hillsborough charity song HMV fears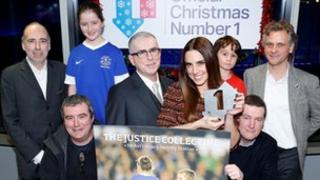 A Liverpool MP has urged the administrators of HMV to ensure all money made on a single in aid of the Hillsborough families is paid to them.
Steve Rotheram, MP for Walton, has been in touch with Deloitte about the Justice Collective's Christmas number one "He Ain't Heavy, He's my Brother".
He said the single sold almost 400,000 copies, both digitally and in HMV stores.
A spokesman for Deloitte said it was looking into the issue "as a priority".
He said: "We understand why people feel very passionately about the single and have discussed this matter with people involved in the campaign."
HMV confirmed this week it would be entering administration and suspended its shares on Tuesday.
Proceeds from the single go to the campaign run by the families of the 96 victims of the Hillsborough disaster in 1989.
'Special circumstances'
Mr Rotheram said: "I have made contact with Deloitte the administrator, highlighting the need for them to give consideration to passport the residual monies owed to the charity from the sale of the single.
"It is worth reiterating that HMV did not make any profit from the sale of the single and that all monies collected by HMV stores were on behalf of the charity to assist the Hillsborough families in their continued legal fight for justice."
HMV were responsible for sales which generated receipts of around £150,000, which Mr Rotheram believed should be transferred via their distributor, Universal, to the charitable account.
The MP added: "I am confident that the administrators understand the special circumstances relating to this specific issue and will do the right thing and pass the monies owed to the families' charity fund as soon as possible."
The release of the single came after a damning report into the handling of the crowd crush at Hillsborough Stadium.
The cover of The Hollies' 1969 hit was sung by artists including Sir Paul McCartney, Robbie Williams and former Spice Girl Mel C.