Residents back plans for Liverpool's Welsh Streets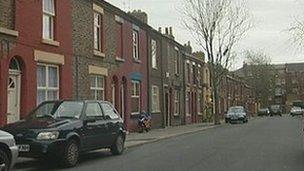 People living in Liverpool's Welsh Streets have backed plans to transform the area, by building new homes and refurbishing some existing properties.
The city council plans to build more than 150 new homes on the streets in Dingle and Toxteth.
Thirty-seven houses will be restored, including 9, Madryn Street, the birthplace of Beatle Ringo Starr.
An independent review commissioned by the council found 71% of local people were in favour of the plans.
The council said it would now put forward the recommendation to proceed with the £15m plans, paving the way to the official submission of the planning application later this month.
The review, carried out by property services consultants DTZ, began in August 2012.
The plans, between the council and neighbourhood investor Plus Dane, include demolishing 280 homes to make way for affordable new homes - many with gardens - which will be available for sale or rent.
They also include leaving 37 of them to be refurbished in partnership with the local community.
Liverpool City Council's Cabinet Member for Housing, Ann O'Byrne, said: "We have already been given a clear message from the majority of Welsh Streets residents that they are in favour of our plans.
"This report gives us further confidence in the potential of this scheme to drive forward the regeneration of the area.
"We believe it will revitalise housing in the Welsh Streets, and deliver the type of homes that people have consistently told us they want to live in, with gardens and driveways."
Of all the houses included on the site, 40 will be retained. These include the refurbishment of 37 terraced properties - 16 of them on Madryn Street, five on High Park Street and 16 on Kelvin Grove.
Related Internet Links
The BBC is not responsible for the content of external sites.