Ethel Austin stores' future: Union Usdaw seeks talks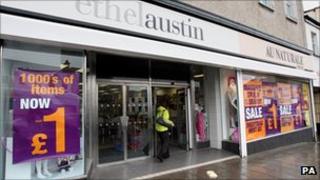 Retail union Usdaw is seeking talks with the owner of clothing chain Ethel Austin over fears it could go into administration for the fifth time.
Usdaw national official John Gorle said union members had been told that the shops were to cease trading.
The brand, which has 28 shops left, was bought in July by Ricli Limited, which is owned by Liric owner and Greater Manchester businessman Mike Basso.
The chain had been administration for a fourth time in four years.
Merseyside-based staff contacted BBC Radio Merseyside saying their shop had closed as part of a wider shutdown.
Other branches in north-west England were not answering their phones over the weekend.
The chain owns stores across northern England with a number in the West Midlands.
The union estimates the shops employ about 200 staff.
'Bleak outlook'
Mr Gorle said: "Our members say they have been told that the stores have ceased trading.
"We expect them to go into administration next week."
He added: "It is not looking good for the remaining stores."
Neither Mr Basso not anyone else from the company was available for comment.
The business was founded by Ethel Austin and her husband George in a Liverpool council house in 1934.
Before the series of administrations which began in 2008, the company had 300 stores employing almost 3,000 staff.